The well-known fast fashion retailer, H&M, confirmed last month that they partnered with the French fashion brand Mugler. The collection is premiering in May, but photos of the garments have been released.
The collection, released May 11, is being curated and created by Mugler creative director Casey Cadwallader. It is supposed to capture the "unique and vibrant spirit of the brand," H&M said. Mugler is known for garments with an architectural style, defined shoulders, and a slim waist (PBS). H&M wanted to continue the brand's iconic legacy by tapping into the quintessential Mugler silhouette. The assortment also showcases elements of design from the founder by recreating a series of limited edition archive remakes to go along with the modern designs which Cadwallader has selected. The collection's purpose is to capture Mugler's iconic current and archived designs and to open up opportunities for people to purchase at a retail price.
Mugler has long been associated with music, performance, theatricality, and subculture. H&M and Mugler released a music video that stars Amaarae, Shygirl, Eartheater, and Arca. They recorded their take on "Music Sounds Better with You," The video is linked below and is a "teaser" showing a sneak peek of the collection released in May.
The sneak peek of the collection shows tight, mesh bodysuits with denim. There are plenty of silver hardware jewelry and accessories, including a belt with the large letter "M," which is sure to be a sell-out. The pieces are sultry and iconic with splashes of color, specifically a forest green trench coat and neon body-con pieces.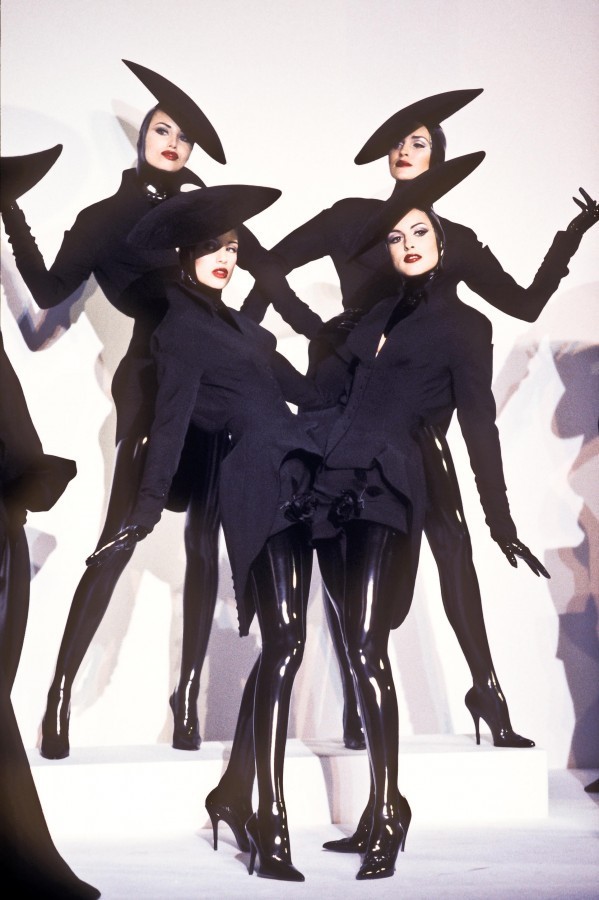 The celebrated fashion designer, Thierry Mugler, passed away last January, leaving a legacy in the fashion world. His inspiration was often pulled from the 1940s and 1950s, which resulted in theatrical and unconventional silhouettes with exaggerated shoulders and hips, structured waists, and sculpted bodices. His designs are recognizable and worn by celebrities like Rihanna, Beyonce, and Kim Kardashian.
He channeled the "femme fatale" in his designs because of his magnified silhouettes. In his collections, he presented women as robots, motorcycles, clams, goddesses, and angels. In the H&M x Mugler collection, the paneled bodysuits and all-black designs showcase the original inspiration behind Mugler of the "femme fatale." Mugler's designs not only give women a fatalistic look but also taps into the noir genre as it is characterized by cynicism and fatalism.
The collection will be available on h&m.com and in selected stores on May 11, so be sure to check out the rest of the designs!